Here I sit at home, passing time. I have periods of overwhelming joy, I have periods of overwhelming sadness. I don't know what the long term results of the Corona Virus are going to be, and that is annoying at least, and extremely worrying at best.
What can we possibly do? I watch CNN and hear the talking heads debate the many points of view that are being shared. I then turn that off, and watch a Hallmark movie, just to get away from the crushing agony of the 24 hour news cycle. I then study the Bible, write a sermon or a post, think about how to contact more people, and make a couple phone calls. I attend a meeting via Zoom and yet again realize how very important personal interaction is for one's sanity.
The whole time I am anxious. This is a strange feeling. During regular life, (which we are not experiencing right now), I am usually busy. I enjoy taking time to write, read, study, or have my feet up on my recliner. During Corona Virus life, I have too much time on my hands, and no where to go. I have to be with my thoughts. So my anxiety rushes out to be acknowledged. I push it down, go do more writing, call some more people, read an old book that I have been putting aside for years. Yet still the anxiety is right below the surface.
I start thinking about sitting with my dad in the hospital. I offered to be with him that last night because my husband and children had stayed in New Jersey; my siblings had family with them, so they had responsibilities. At the beginning of the evening with my dad I was feeling anxious. What could I possibly do? Then I stopped thinking. I just acted. I helped dad keep his lips wet, I helped him try to get comfortable in the bed. I held the glass for him as he took a drink of liquid. I listened. I held his hand. I recited the Apostle's Creed, Lord's prayer, and many, many Bible verses with him. Dad would lose his voice, often just mouthing the words along with me.
It actually became a peaceful time. I hadn't had the opportunity to be with dad in a long time. There were always others around. I always had something pressing me for action, the kids, my siblings, my mom… Dad just wanted to hear my voice reciting his favorite scripture or singing for him. He knew he was dying. There was nothing that could be done. His cancer had metastasized. He was full. I sat with him and accepted this as he had already done. I prayed with him. I sang with him. We quoted scripture together.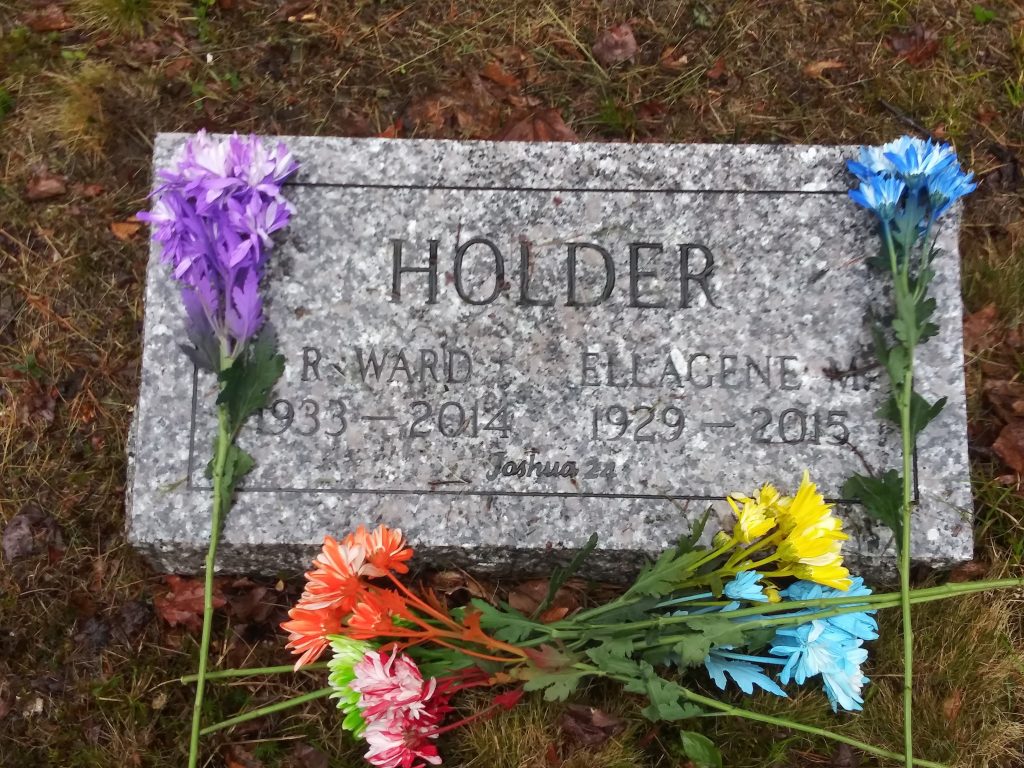 If you look at my parents' gravestone, you will see Joshua 24 on the bottom. Joshua 24:15b states, "but as for me and my household, we will serve the Lord." Joshua was challenging the Israelites to be careful with their covenants. God wants us wholly, and is not interested in sharing us with our other important things, those things that clog our minds and hearts.
This was one of my dad's favorite scriptures, surprisingly, Romans 8:38-39 is also. There Paul wrote, "For I am convinced that neither death, nor life, nor angels, nor rulers, nor things present, nor things to come, nor powers, nor height, nor depth, nor anything else in all creation, will be able to separate us from the love of God in Christ Jesus our Lord. " So though we must choose God, once we make that choice, nothing can get in the way of God's love or care for us.\
Just as I experienced in that hospital room with my dad, I am less anxious. This may just work for me. But when I am feeling useless and too nervous to do anything, scripture, prayer, and thinking of God's presence has allowed me to clear my mind. Now I can continue my day. This might work for you too.
Let's talk about it.