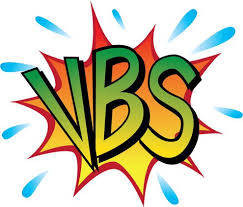 Remember Vacation Bible School, a time of fun, and sticky hotness, when school was finally out, but there was still something to do?
We all gathered together for fun and learning, and art and snack and games. Remember how it didn't matter what church you actually went to during the school year, you could go to every church's Vacation Bible School!
This year, our VBS, is for everyone, just like it used to be. All people are invited to participate. And it is even for all ages too. You can be 3 or 12 or 17 or 98. We don't care your age, you are invited to our VBS!
There is a little catch. This year's VBS will be done in your home. Pastor Leigh is emailing you all the information and directions you need, and will be on line throughout the week discussing that day's lesson.
Join us for Vacation Bible School. Pastor Leigh is really excited about it, and we hope you are too. VBS will start June 8 and conclude June 12. You will receive all the things you need through email, so if you are not on the church email list, please share your email with pastor Leigh. You can send it to her at heatherlyhb@gmail.com